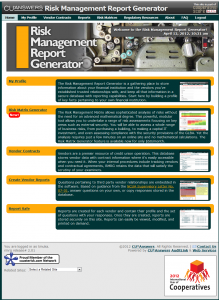 Third Party Risk Assessments are time consuming, difficult, and one of the last things on your mind when making a decision about a new service or product. Even choosing a template to complete your due diligence on third parties is difficult. Our owners brought this requirement to the CUSO and asked if collectively we could address this with a standardized toolset which we all could share. We answered with Risk Management Report Generator. With this new tool you can complete your third-party evaluations on any cuasterisk.compartner or business division and at the same time develop a database of information to share with the entire community. The Risk Management Report Generator is a template designed to assist you [credit unions] in completing the three phases of your evaluation of your relationships with CU*Answers and our partners. It is divided into three areas:
Risk Assessment and Planning
Due Diligence
Risk Management and Monitoring
IT'S EASY TO GET STARTED
To get started, contact Jim Vilker at 800-327-3478 x167 or online to obtain login information.
Go to http://rmrg.cuanswers.com and log in.
Update the "My Profile" section. Keeping this current is very important for ongoing communication
Next update the "My Vendor" section. Begin with the partner on which you will be performing your assessment. If it is not a cuasterisk.com partner you are still able to use the site but information regarding the vendor will not be saved or viewable by other credit unions.
Click "My Contracts" and enter all relative contract data. This section is what you will use to monitor contract status and review dates. You will be notified of the review dates via the e‐mail address entered in your profile.
Next, go to the "My Reports" page and click "Begin New Report".
Answer the questions or review how your peers answered it.  If you desire, you can simply copy an answer from one of your peers directly into your report.
You can save a draft of your report at any time. When you're ready to resume, simply go back to the "My Reports" menu to update. Clicking on the report allows you to view  and print the report. Clicking on the answers will allow you to update the report. Once you finalize the report, click on "Draft" and update the status to "Completed".
Congratulations! You have just completed your first risk assessment.